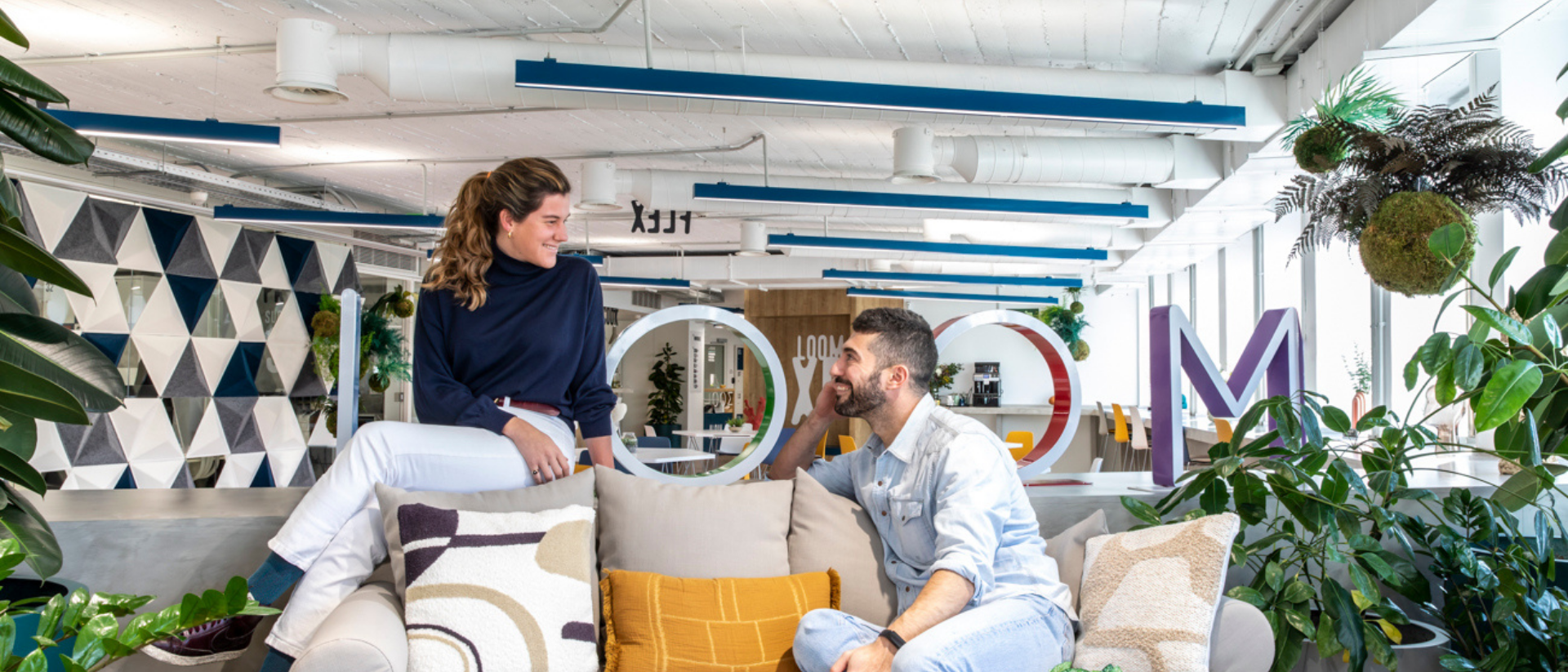 ABOUT US
All great ideas come from a great place. LOOM is that space that inspires and nurtures great ideas
We are the sum of many people with many good ideas. That's why we create spaces for professionals and companies that are creative, innovative, brave, and ready to shake things up. People who strive to do things better every day.
For over 5 years, we have been designing unique workspaces, in which you can feel at home, surrounded by natural light, with spacious and comfortable work areas, where you can enjoy terraces and gardens or be inspired by exclusive architecture integrated with the latest technology.
Our commitment is that of MERLIN Properties, the Iberian Peninsula's leading listed real estate company, which we have been part of since 2019. MERLIN Properties has the best and most extensive portfolio of offices in Spain and Portugal, striving to improve the experience of more than 130,000 workers who use its spaces every day.
We take a transformative, innovative, and ground-breaking approach to the future, helping to build the companies of tomorrow. Our goal is to bring value to society, whilst at the same time generating a unique working experience for all our clients.
You focus on great ideas while we make it easy for you
The world of work is constantly changing, and at LOOM we have set out to make things easier for you, no matter what. That's why we design flexible and ultra-flexible solutions and plans, so you can focus on promoting your business, and we'll deal with everything else.
Just let us know your needs and preferences, and we will set up a space so that you can work without distractions from the get go. We will take care of every last detail and design a fully customised experience just for you.
Because at LOOM, we create offices and work spaces for all, whether you're a large corporation, a start-up in the process of growth or an independent professional, at LOOM you'll find a solution that adapts to your needs. Is your team growing? We grow with you and adapt your office! Need extra space for a limited time only? We have the solution. We can modulate your work space as your needs change…
Furthermore, at LOOM, you don't have to commit to anything long term. You can pay by the day, by the month, per use, by the hour… Flex and Ultra Flex options offer solutions for any type of company and professional.