The prestigious architectural magazine Frame nominates LOOM Castellana 85, the latest space opened by LOOM in Azca, as a benchmark project in workspace architecture in 2023.
LOOM, the flexible office division of MERLIN Properties, together with the architecture firm Ballarín Mendoza, are nominated for the Frame architecture magazine awards for best coworking space 2023 for their LOOM Castellana 85 space.
Located on the 8th floor of Castellana 85, in the heart of Madrid's Azca financial district, the space has more than 1,700 square meters of floor space, 20 flexible offices, 8 meeting rooms and a wide range of services.
The architectural project of the space, "La Célula", is inspired by the shapes of nature and noble materials to create a coworking space with premium qualities and a very welcoming atmosphere, specially designed for corporations. In addition, LOOM Castellana 85 stands out for its versatility, light and color and a warmth that seeks the well-being of users.
The workstations at LOOM Castellana 85 are located on the perimeter, with access to natural light, while the services and meeting rooms are attached to the central core, allowing optimal use of natural light.
Space adapted to all needs
LOOM Castellana 85 is a space where the distribution can be adjusted at all times based on the changing needs of the tenants, with, for example, meeting rooms and offices that can be quickly adapted in size through a system of sliding partitions and dividing panels.
Thus, LOOM is able to respond to the workspace needs of any type of company at any time, meeting requests in a personalized and 100% customized way.
A different kind of coworking
The aim of this architectural project has been to create an office space that differs from the usual coworking archetype. The design is inspired by more classic office interiors, using natural oak finishes, silver anodized frames, carpeted floors, upholstered room walls, sandy colors and mid-century furniture. This look contrasts with the striking, brightly colored aluminum curtains that surround the glass partitions in the meeting rooms, decorate circulation areas and provide a level of privacy for meetings.
Circular thinking has been introduced into various aspects of the design process, construction method and product specification. The widespread use of mechanically fastened partitions, modular floors and the oversizing and duplication of building services allow for reversible layouts and further subdivision of office cells. This foresight reduces the need for future redesigns, new renovation work, loss of client revenue and consequently reduces life cycle material and carbon footprint.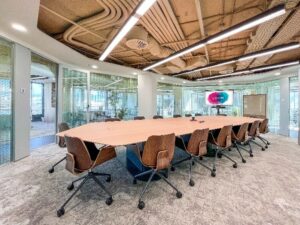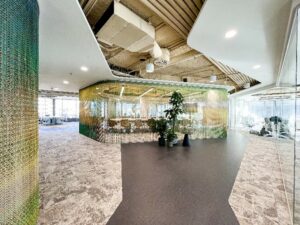 LOOM, an international benchmark in coworking and architecture
In addition to this nomination by the prestigious architecture magazine Frame, LOOM and the SCOB studio recently won the Popular Choice A+ Award 2023 awarded by Architizer A+ Awards, for their LOOM Plaza Catalunya project, in the category of best international coworking.
LOOM, hand in hand with SCOB, executed a comprehensive renovation of several floors of the building at Plaza de Catalunya 9, originally designed by the prestigious architect Puig i Cadafalch in the early twentieth century, combining tradition and avant-garde, in a space brimming with light and spaciousness, with an elegant and contemporary design that forms a unique flexible office.
LOOM is the flexible workspace subsidiary of MERLIN Properties. It is one of the leading national managers of coworking and collaborative work spaces. LOOM features state-of-the-art workspaces integrated with the latest technology, 100% flexible customized solutions and the LOOM Experience program that fosters a culture of well-being based on the best experience.
Large corporations, startups, SMEs and entrepreneurs work at LOOM, all benefiting from shared knowledge to achieve faster growth and innovative programming that stimulates continuous professional and personal development.