Hybrid work models continue to be implemented with intensity in Spain, supported by technological innovations, flexible workspaces and a culture of well-being and experience that is becoming increasingly important, as shown in the whitepaper we have just launched.
A document that reflects that for many companies the new way of working involves combining traditional office working days with others in coworking and flexible work spaces, where employees can develop their activity in collaborative and innovative environments, close to other companies, from which they receive feedback, while benefiting from activities for their personal growth.
The whitepaper also points out how large corporations such as Pepsi, Wella, Cines Yelmo or Powernet, among many others, have successfully implemented their own hybrid work model based on new innovative workspaces and a people first culture.
Companies are betting on flexible resources that allow them to make quick adjustments and changes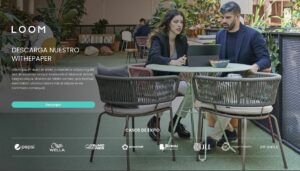 The document reflects how companies are increasingly betting on the configuration of hybrid models based on flexible resources that allow for quick adjustments and changes as needs arise, without having to make long-term commitments.
"Now the office is much more than a place to work, it is a place to interact, innovate, motivate and grow. Technology is helping to automate more and more tasks, so the creative and collaborative part is gaining more weight. Companies are now configuring flexible offices that encourage collaboration in innovative spaces", explains Fernando Ramírez, CEO of LOOM.
A context increasingly marked by innovation and technology
Our flexible spaces in Madrid and Barcelona are home to all types of companies, especially large corporations, which are increasingly looking for flexibility and innovation, but also startups in the growth phase, SMEs and independent professionals. What seems clear is that the office continues to be an essential resource for creating company culture and engagement in teams, although it must adapt to new needs, as important as flexibility to better combine professional and personal life.
Download here the whitepaper on new work models and wellness culture.