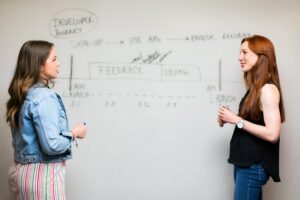 Nowadays young people decide to start to create their own businesses. The reasons why these young people carry out these initiatives are mainly: to work on their own without being accountable to anyone, stop meeting schedules, gain financial independence and become a reference.
If you are also thinking of starting a business, we bring you some real examples of some young entrepreneurs under 30 years of age.
Ricard Canal – Soof
Soof is a portal that allows us to search for professionals who carry out voltaic installations and publish the places where you want to carry out renewable installations so that professionals can assess them. In this way, the owners of the spaces are connected with the professional installers. Its CEO and co-founder, Ricardo Canal, is one of our LOOMERS and developed this business motivated by a final degree project and his desire to contribute his bit in renewable energy.
Sara Baceiredo – Its Lava
Spanish influencer Sara Baceiredo founded this company in 2019. Its Lava is a day-to-day accessories company where women can personalize their purchases. This young woman is committed to sustainability and wants people to have accessories that make them feel more self-confident.
This company was born from the union of driving a classic motorcycle with one of the most advanced technology,  designing and marketing 100% electric motorcycles that can be customized by the user. At LOOM we met her co-founder and her CTO at the South Summit 2021 where she, together with Endesa, held a startup contest and she was the final winner of it.
Adriana Urivesalgo – Ekomodo 
Some time ago we talked about this company on our blog in the post "5 sustainable fashion brands that take care of the environment". Adriana Urivesalgo is one of the three co-founders who created this company and who worked at Eko-REC, an international benchmark and circular economy company that is the only one that recycles PET bottles. In 2019, these three young people thought of turning this fiber into products that people could use in their day-to-day lives, creating Ekomodo, a company based on local production, the use of sustainable materials and seeking to reduce social impact.
At LOOM, which is committed to this type of company, we have collaborated with them for raffles and to raise awareness of the importance of recycling and sustainability.
This app, created by the young Nicole Flamarike about two years ago, helps companies to improve their sustainability indicators and their environmental impact by encouraging people's involvement and integrating it into their business culture.
Some time ago we invited this company to give a talk related to sustainability to make our collaborators aware of the importance of the topic.
Diego Bergasa has experienced development in the world of marketing. He co-founded "Olympia Marketing", an agency specialized in talent management and Influencer Marketing.
You can find the Olympia Marketing team at LOOM Huertas.
In 2020 Adrián Rojas founded Happy Training, a company that was born motivated by his passion for sport. The company is dedicated to design and creation of sports socks with different, high-quality and fun designs for those sports lovers who seek to dress in a daring way.
You can meet this incredible young man in our LOOM Cornellá.
At LOOM we are very committed to entrepreneurs and that is why we help them develop their work with programs like LOOM for startups. If you are also an entrepreneur, come and discover our coworking spaces and start developing your work surrounded by an excellent work environment.