We joined simplr, the pioneer Spanish platform in circular economy that allows access to any product or service by subscription, to offer subscription products with exclusive advantages to our users.
In this way, LOOMERS will be able to subscribe at a discount to the different products and services offered by Simplr, such as computers, screens, household appliances, furniture, books or any vehicle, with the exception of cars.
This is an extra benefit of the LOOM Experience program for the more than 2,000 workers who use our facilities.
"We have designed a differential experience for our customers, providing day-to-day services that favor well-being and responsible consumption through the LOOM Experience program," says María Montis, LOOM's operations director. "We are committed to agreements with suppliers that favor sustainable development, as is the case of Simplr".
A pioneer in circular economy, Simplr proposes a change in the pattern of consumption that prioritizes use over acquisition, reusing instead of discarding and, in short, subscribing instead of buying.
In terms of sustainability, it allows companies and users to adjust their purchases to their real needs and, once these are concluded, to return used products so that third parties can use them, increasing their life cycle and reducing the manufacture of goods.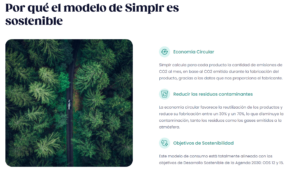 In the words of Angel Bou, CEO & Co-founder of Simplr: "Hybrid work models are already part of the new normality faced by companies and employees. Thus, in a scenario where telecommuting is the order of the day and common, open and mobile spaces have become the new offices, Simplr and its pay-per-use model wants to become the reference alternative for customers of coworking spaces and / or flexible work to access the products and services they need economically and without strings attached. This first agreement with LOOM is a reflection of that".
Discover all the advantages offered by our LOOM Experience program for LOOM users.