Looking for a meeting room in Barcelona? At LOOM we have fully equipped meeting rooms from 2 to 16 people. In addition, if you need it you can hire extra services such as custom catering, everything to make your meeting a success.
Meeting room Barcelona 92
If you are looking to surprise, this room is perfect for you. It is located in the iconic Torre Glòries, a building owned by MERLIN Properties, and has 360º views of the city. It can accommodate teams of up to 16 people and, as its name suggests, is inspired by the famous 1992 Olympic Games.
A bright and fully equipped meeting room perfect to surprise clients, investors or your own team.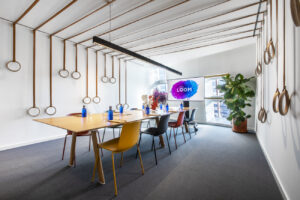 Montnegre is a perfect room to have meetings for small teams. It is located in LOOM Glòries, in the heart of the 22@ neighborhood, where you can enjoy natural light and stunning views of La Sagrada Familia or Barceloneta.
It has capacity for 5 people and is equipped with screen and office material to make your meetings a success. If you need other extra services such as catering or audiovisuals, just let us know :).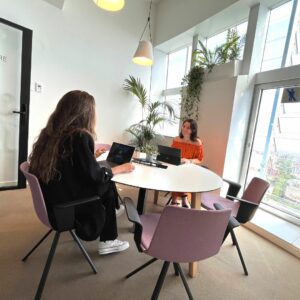 This room is ideal for holding meetings, training sessions or conferences for up to 16 people. A bright meeting room that stands out for its versatility, as it can be perfectly adapted to your needs by placing tables, chairs only, in "U format", "school" or any other design you can think of.
It is also located on the 25th floor of the Torre Glòries and has stunning views of Barcelona.
Meeting rooms fully equipped in Cornellá
The Brooklyn meeting room can accommodate up to 14 people and features state-of-the-art technology and innovative furniture. This meeting room is housed in LOOM Cornellá, specifically located in the World Trade Center Almeda Park, a business park surrounded by all the services you need.
In addition, for moments of relax, the space has an impressive outdoor terrace.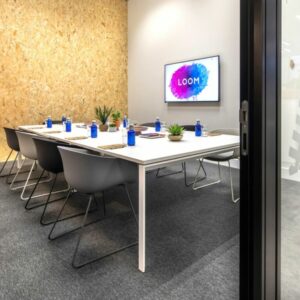 Notting Hill meeting room 
Notting Hill is a meeting room surrounded by natural light located in LOOM Cornellá, also in the World Trade Center Almeda Park.
An ideal room for quick meetings or small teams of up to 5 people. This meeting room has a screen and innovative design furniture, as well as plants and decorative elements to make your stay more pleasant and your meeting a success.
If you want to hold a special meeting, we take care of everything! Catering, stationery, additional audio-visual materials… etc. Tell us what you need and we will make your meeting unforgettable for all attendees.
Book now the best meeting rooms in Barcelona.