We discover what's behind Sustainable Startup & CO, the largest Hispanic community of green entrepreneurship and LOOM's new partner.
In LOOM we want to be promoters of community actions that promote the connection, awareness and cooperation between startups and large companies in this ecosystem to disseminate and integrate sustainability into the business fabric.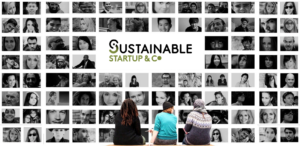 Let's discover what Alberto Palacios, Yasmina Sánchez and Jose Correa have to tell us!
How did Sustainable Startup & CO start?
Sustainable Startup & CO arose in the summer of 2019 with the collaboration of two competing companies that resulted in the creation of the Sustainable Startup Day event. A meeting that hosted about 800 attendees, where about 1,200 people registered…quite a success from which we realized that we could not stay in one event: that's when we created Sustainable Startup & CO to be able to connect and create connections between all the people who wanted to create real sustainable impact.
Why did you choose LOOM as a partner to create the first sustainable startup community?
We chose LOOM as the main partner to drive this community because both organizations are very aligned with the same purpose: to drive innovation from impact and sustainability. In addition, we were looking to reach a broad ecosystem of entrepreneurship such as the one that grows in LOOM spaces.
¿Qué beneficios aporta Sustainable Startup a un proyecto que quiera unirse a vuestra red?
Los emprendedores que forman parte de la comunidad de Sustainable van a encontrar beneficios como descuentos y productos exclusivos gracias a nuestros partners y colaboradores así como conectar a través de nuestro tejido de emprendedores con proyectos similares.
What benefits does Sustainable Startup bring to a project that wants to join your network?
Entrepreneurs who are part of the Sustainable community will find benefits such as discounts and exclusive products thanks to our partners and collaborators as well as connecting through our network of entrepreneurs with similar projects.
How do you envision this year with LOOM, and what actions can people expect to see from this collaboration?
We imagine a very interesting year to transform entrepreneurs, companies and organizations towards more sustainable processes. People will be able to find a scenario where they can learn about this awareness, connect with companies and organizations that will help them to transform their business fabric towards a sustainable line and, above all, they will be able to enjoy the process.
What have you come up with? LOOM loves this great project! We invite you to join us in promoting sustainability in the business fabric and, along the way, to sign up for our programming and events that we are organizing together in support of sustainable development.