In LOOM everything has a reason and a why and our new coworking space in Pozuelo, LOOM Ática, was not going to be less.
We are not looking to open spaces in a massive and industrial way because it is not in our essence. We seek to get the maximum potential out of the space to build a unique place to support and promote the companies that are part of our community.
Flexible workspaces are currently an alternative for many companies. In fact, during the first quarter of 2021 transactions of flexible positions have increased by 85.4% in Madrid and Barcelona compared to the last quarter of 2020, according to data from CBRE.
60% of the positions demanded in coworking spaces come from companies that had not used this service before, one of the many consequences of the pandemic. However, 30% of the demand are startups already familiar with this work methodology.
What will you find in LOOM Ática, the new coworking space in Pozuelo?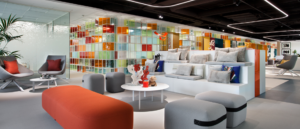 This new space is located in one of the best areas of Pozuelo de Alarcón, specifically in the heart of Ática Business Park.
LOOM Ática is born from the hand of Morph Estudio under the concept "Kaleidoscope", a prism that reflects light, depending on the angle at which you look at it. A colorful and innovative place in a professional environment to develop your creativity and grow surrounded by companies of all sizes and sectors. tamaños y sectores.
22 fully glazed offices to enjoy natural light, 30 fixed workstations, phone booths to make calls, LOOM GO! workstations and a large common area where you can enjoy community life.
LOOM Ática is the seventh LOOM opening in Madrid and a space where you will find the ideal place to grow your projects surrounded by SMEs, startups and large corporations.
Don't miss LOOM's latest news by following our social media.