We continue growing and over 2022 we will open three new office spaces in Madrid and Barcelona, as well as expanding another three in both cities.
With these new openings, we will have 13 new spaces and a total footprint of more than 27,500 square meters, representing an increase of 52% over 2021.
In Madrid, we landed in the most prime and emblematic area of the capital's office market, AZCA, with two new spaces in Castellana 85 y Castellana 93. Also, after reaching full occupancy, we will expand LOOM Torre Chamartín and LOOM Ática in Pozuelo de Alarcón.
In Barcelona, we inaugurated two new spaces in the best areas of the office market, LOOM Ferretería, in the innovative 22@ district and LOOM Plaza Catalunya, en el impresionante edificio Casa Pich i Pon, que contará con terrazas privativas como gran novedad. In addition, after reaching 100% occupancy, we will expand its impressive LOOM Glòries coworking space in the iconic Torre Glòries building.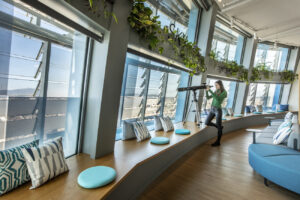 In the words of our CEO Fernando Ramírez:
"This powerful expansion in such strategic enclaves in Madrid and Barcelona in 2022 responds to the great reception that our spaces are having in the market, demonstrating that flexible offices adapt with agility and versatility to all the space needs of any company, regardless of its size or time horizon."
We are currently the only operator in the market capable of offering fully equipped workspaces for use by year, by month or even by hour. In addition, the return to the office has motivated many corporations to design their workspace completely customized and turnkey, with us. Some of the companies that already enjoy this model are Wella, PWC, EIT Urban Mobility, Dr. Smile or Busuu.