Brainstorming is a creative technique, devised in 1939 by Alex Faickney Osborn, which is based on the interaction between the members of a group to create new ideas on a specific topic. Do you want to succeed in your next brainstorming session? Take note of the keys.
It helps to motivate and develop teams, discovering the different profiles that work with you on a daily basis. In addition, it facilitates collaboration, enhances creativity and generates a wealth of ideas that can solve future problems.
It is a key tool to get out of a blockage and brings that freshness that we usually need. But… Do you know how to do a perfect brainstorming session?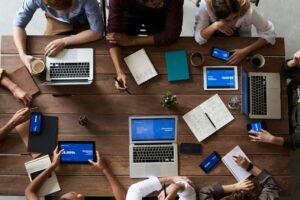 Here are 5 steps to success in your next brainstorming session.
A bad idea is also an idea.
Value any idea, no matter how wild or exaggerated it may be. It will be easier to find the solution that best suits your needs if participants are not constrained in their thoughts or feel criticized. Don't criticize and, of course, address those who haven't spoken – they will have a lot to contribute!
Before starting with a very broad and general topic, try to divide it into parts and analyze if through questions other ideas can come out. For example:
Why didn't the campaign work? Because we didn't target the right audience.
Why didn't we address the right audience? Because we chose the wrong tone.
Why did we choose the wrong tone? And so on and so forth.
Another option is to ask participants to jot down a couple of ideas on a piece of paper (or online document) and then have other participants elaborate on their peers' ideas.
If you want to extend the ideas that come out of the session even further, encourage participants to build on, improve or enrich the contributions of others.
The important thing is that it is a fluid session, where everyone feels comfortable and there is no room for negative feelings. Ideally, this should be a session with a maximum of 8 to 12 people. It is also important to limit the time so as not to get carried away, because even if it is informal, it is still a work session.
Get inspired by creating moodboards.
Moodboards or inspiration boards are very useful, especially if you are trying to create a claim or a brand or design strategy.
Combine images, colors, textures, phrases… everything can help you get the emotions and ideas to surface and flow! This option is ideal if you are trying to create a new brand concept, doing a rebranding or making a new product design.
You can opt for a physical board (the corkboard of a lifetime) or a virtual one (Pinterest). In that case, try a collaborative board! The best ideas always come out thinking as a team.
Change your physical environment.
Changing your environment is not only fun, but also necessary. You'll be surprised how a simple change of space can affect your brain.
Choose a large space, with comfortable furniture and equipped with a whiteboard, screen and notebooks. How about a brainstorming session at LOOM Huertas, located in the heart of the Barrio de las Letras, or at LOOM Tapices, 5 minutes from the Retiro? Check them all out here!
Have water, drinks and coffee on hand to keep minds awake and at 100%. Our LOOM hosts will be happy to help you with everything you need to make your brainstorming session a success.
Brainstorming is not just brainstorming, it's about finding the problem together and solving it by teambuilding and reinforcing the connection between the people that make up the teams. That is why it is key that all participants are spontaneous and are in a relaxed and relaxed atmosphere in which ideas flow.