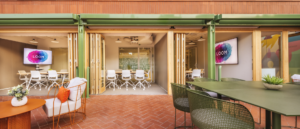 We continue growing in Barcelona with the opening of LOOM Ferretería, a new flexible work and coworking space with 6 floors in the heart of the 22@ district.
This new coworking space has 217 work seats, 15 offices, 11 meeting rooms and 2 terraces in a space surrounded by light, color and an innovative architecture specially designed for the comfort of users. Its 6 floors are set in the different sections of an old hardware store, original function of the building in the past: carpentry, blacksmithing, electricity or painting.
LOOM Ferretería has two spectacular terraces, exclusive spaces for events and unique meeting rooms that offer the possibility of holding a work meeting outdoors, enjoying the good weather of Barcelona.
It is also a dog-friendly space, one of the many advantages of the LOOM Experience program, which promotes the well-being of users during the working day, with exclusive services and benefits such as sports sessions, appointments with health professionals, healthy food, tea, coffee and free organic fruit, among many other benefits.
This new opening reinforces MERLIN's commitment to the 22@ zone, an area of the city of Barcelona that stands out for being a greenhouse of companies linked to innovation and technology. In fact, this opening is in addition to the expansion that took place earlier this year in the LOOM space in Torre Glòries, which already has 4 complete floors and capacity for 260 seats.
We keep growing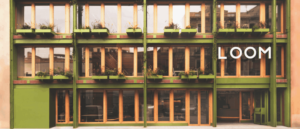 In Barcelona, in addition to this new opening of LOOM Ferretería and the expansion of LOOM Glòries, we have inaugurated LOOM Plaza de Catalunya. In Madrid, we have opened a new plant in LOOM Ática in Pozuelo de Alarcón and we have burst into AZCA, with two new spaces in Castellana 93 and Castellana 85.
"This new opening is another big step for LOOM in its commitment to Catalonia, as LOOM Ferretería is the fourth LOOM space in Barcelona. LOOM Ferretería has unbeatable facilities and an ideal location for innovation and business growth" says Silvia Hermosilla, commercial director of LOOM.
We will close 2022 with 13 spaces and a total footprint of more than 27,500 square meters, with capacity for 2,844 workstations, representing an increase of 52% over 2021.
We are the only operator in the market able to offer fully equipped workspaces for use by year, by month or even by hour. In addition, the return to the office has motivated many corporations to design their workspace completely customized and turnkey with LOOM. Some of the companies that already enjoy this model are Wella, Pepsi, EIT Urban Mobility, JLL, Ricoh or Dr. Smile.