We inaugurated a new facility at LOOM Torre Chamartín, a space located in the north of Madrid. This new floor will host Wella, the cosmetic products company, which has used the "Space as a Service" service to build its flexible office designed 100% custom-made.
From now on, this fully automated space, equipped with the latest technology, will have a total surface area of more than 3,400 square meters distributed in areas of fixed work places, flexible work places, offices, meeting rooms and a capacity for 343 work places. In addition, LOOM Torre Chamartín has 3 areas for events, rest areas and a spectacular terrace with panoramic views of the Madrid skyline.
LOOM Torre Chamartín stands out for its impressive 360º views of Madrid, its natural light, elegant and avant-garde architecture and direct access by car from the M11 and the A1. The Wella company will occupy more than 400 m2 of this new floor, which has been custom-designed as "Space as a Service" by LOOM for the cosmetics company.
"MERLIN and LOOM's commitment to flexible products allows us to have a tailor-made, innovative and flexible workspace, which we have designed entirely based on our needs together with the LOOM team" Menelaos Lazos, Managing Director of Wella, points out.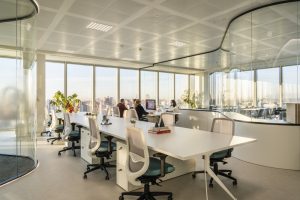 LOOM keeps growing
We continue growing in 2022 and in addition to this new floor in LOOM Torre Chamartín, the company will open three new spaces in Madrid and Barcelona and will expand its LOOM Ática and LOOM Glòries spaces. In Madrid, LOOM is breaking into AZCA this year, with two new spaces at Castellana 85 and Castellana 93.
As a result, LOOM will now have 13 spaces and a total footprint of more than 27,500 square meters, with capacity for 2,844 workstations, representing a 52% increase over 2021.
We are the only operator in the market able to offer fully equipped workspaces for use by the year, by the month or even by the hour. In addition, the return to the office has motivated many corporations to design their workspace completely customized and turnkey, with LOOM. Some of the companies that already enjoy this model are Wella, Pepsi, EIT Urban Mobility, JLL or Housers.