Sport is important for health and that's a fact, we have finally understood that sport is key to taking care of the mental and physical health of workers.
Sport helps to release tension, regulates blood pressure, improves flexibility, combats insomnia and reduces stress, which benefits everyone who practices it and especially workers. In fact, regular practice makes employees feel better physically and mentally, plus reducing sick leave and absenteeism.
It is a great remedy against the so-called "burnout syndrome" or "burned-out worker syndrome", a state of physical and mental exhaustion that affects self-esteem and work personality. Although it can occur in any position, it is especially prominent in those who are in front of the public or have dealings with customers. As the famous Latin quote "men sana in corpore sano" says, keeping the body in shape helps to keep the brain in shape because it increases self-esteem, improves energy, mood, and also performance.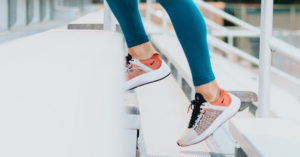 Companies that take care of their employees' health attract and retain talent more easily, reinforcing the feeling of belonging, improving teamwork and productivity, and boosting creativity.
Companies that take care of their employees' health attract and retain talent more easily.
However, although we are all aware of the benefits of practicing sports on a regular basis, many people still do not do it or only do it occasionally. In LOOM we want to promote healthy habits of the users of all our coworking and flexible work spaces, so we promote different activities to raise awareness of the importance of leading a healthier life and practicing sports.
Healthy Week: every month we organize in a LOOM space a theme week in which LOOMers can participate in different activities that take care of their physical and mental health. The activities vary from healthy breakfasts and snacks, stretching sessions, stretching, HIIT, Yoga, Pilates… etc.
LOOM Experience:a new LOOM program to ensure that its users always have the best experience. This program includes free and on-demand services such as healthy eating, physiotherapist, nutritionist…
Agreement with Adidas Running: We have signed a collaboration agreement with Adidas to organize running sessions in different LOOM spaces.
If you want to be informed about when our Healthy Weeks are held or the different activities of LOOM Experience, subscribe to the LOOM newsletter!