If you are part of the entrepreneurial ecosystem, you have probably heard of the so-called "unicorn companies" but… Do you really know what they are and which are the best known?
Unicorn companies are those startups that have reached a valuation of more than 1 billion dollars at some stage of their capital raising process. The term was first used by Aileen Lee, founder of Cowboy Ventures in November 2013, to refer to those companies that achieved this milestone that seemed almost impossible to her.
At that time there were 39 companies and currently there are more than 700 unicorn startups. Keep in mind that this list changes a lot because when companies go public they are no longer considered unicorns and start-ups, so do not expect to find giants like Facebook, Xiaomi, Uber or Dropbox on the list.
Currently the list is headed by ByteDance, owner of TikTok and the most valued startup worldwide; Stripe, the company that reinvented payment gateways and Space X, Elon Musk's startup that builds microsatellites the size of a smartphone.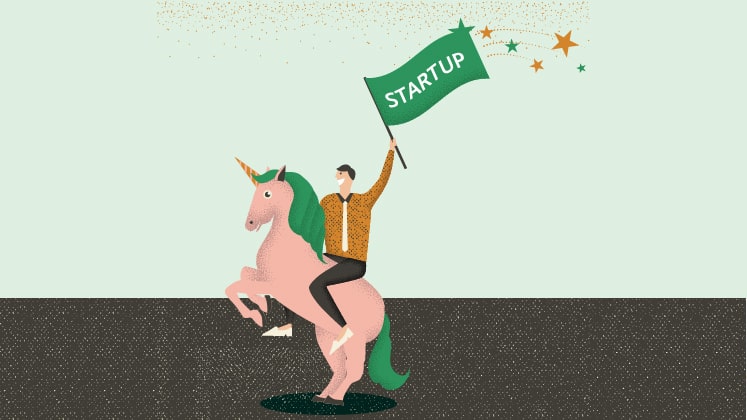 What makes unicorn companies special besides their high market value?
Forget about the young man who discovered gunpowder in his garage. The average age of the entrepreneurs who found these companies is 34 years old, people with a lot of education and experience in the sector. In fact, the founders of LinkedIN were on average 36 years old and those of Workday, 52 years old.
Everything takes time. On average, it has taken them seven years to raise a round of financing.
The most common sectors are fintech, artificial intelligence, healthcare, telecommunications, e-commerce and cybersecurity. In addition, most of them are B2C, i.e., their strategy is focused on directly reaching the customer or end consumer.
Many of them create collaborative models. For example: collaborative mobility (BlaBlaCar or Uber), collaborative lodging (Airbnb or Homeaway), collaborative commerce (Ebay or Wallapop), collaborative knowledge (Wikipedia).
Although they later expanded and increased their growth exponentially, they were initially small teams made up of three entrepreneurs on average.
They emerged at a key moment, the rise of social networks, and have been able to take advantage of them to consolidate and grow. However, although the term is recent, in previous decades there were also "unicorns" (although they were not yet called that). For example: in the 90s Facebook and Amazon were born, in the 70s Apple and Microsoft, and in the 60s Intel.
Most importantly, they break with established patterns. They are disruptive and innovative, they create trends and break out of traditional contexts.
Beyond Silicon Valley… Do unicorn companies exist in Spain?
Although the United States and China lead the ranking of the main unicorn companies, Spain and Europe have also made it onto this select list. The first European startup to appear is Revoult, a mobile banking app from the United Kingdom whose value amounts to 1.7 billion dollars after raising a financing round of 250 million dollars.
If we talk about Spain, we currently have 3 unicorn companies: Cabify, valued at $1.4 billion and Glovo valued at $1 billion. However, there are at least 6 startups (Codigames, Jobandtalent, Paack, Playtomic, RavenPack and Wallapop) that have been included in the Top 100 Next Unicorns list.
At LOOM we walk hand in hand with entrepreneurship and that's why we offer support to startups through LOOM for Startups, a new benefits package that includes discounts on jobs, event spaces and free meeting rooms, as well as discounted consulting services.