The world of work has changed and companies have realized the need to offer flexibility, conciliation and freedom to their employees. If you have ever wondered why work in a coworking, here are the reasons that will make you leave doubts.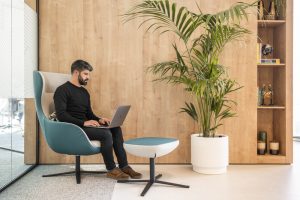 Flexibility
Coworking spaces, also called flexible offices, offer versatility by adapting to the needs of each company. From hourly positions, offices and private offices, meeting rooms or event spaces. All in innovative and dynamic environments designed with all needs in mind.
Optimize costs
Coworking spaces offer different solutions adapting to every need, being a perfect solution for companies that are just starting or startups/scaleups with a fast and exponential growth, which need to adapt their space to the market growth.
Fully equipped with state-of-the-art technology
When you rent your own office you have to invest many times in decorating it to your liking, changing the furniture, thinking about the workstations… However, coworking spaces are fully equipped and from the first moment you will have your workstation available for work. In addition, you can design your office according to your needs.
Well-being
Coworking spaces are more than just a place to work. They offer activities designed to take care of your wellbeing, such as yoga, running sessions, HIIT or healthy eating options. You can work in a pleasant, comfortable and healthy environment.
Sustainable Mobility
Located in prime locations such as city centers, flexible offices are very well connected by public transportation. They also offer sustainable mobility solutions such as carsharing, scooters, shuttles or electric bicycles.
Versatility of spaces
Terraces, green areas, spacious workstations, rest areas, meeting rooms and event spaces. Coworking spaces are designed as versatile environments in which to work comfortably and surrounded by professionals with whom to network.
At LOOM we want you to feel at home and that's why our spaces have large terraces, gardens and spacious work areas where you can work comfortably and happily.