A few years ago the concepts of "coworking", "flexible office" or "hybrid work model" were largely unknown in our country, barely understandable to the brave entrepreneurs. Today, pandemic in between, we can say that it is a trend and also the model of the future. So much so that large corporations, such as Powernet, are also betting on flexible offices, looking for a model that adapts to their needs in coworkings.
Powernet, a leader in the telecommunications sector with offices in Madrid, Barcelona, Mexico City and A Coruña, has moved its Madrid headquarters to LOOM Torre Chamartín, opting for the new flexible "space as a service" format.
With this new service, LOOM is committed to the creation of totally flexible spaces, creating "tailor-made suits" for large companies. Thus, we have designed for Powernet a new headquarters in the capital in a totally customized way, adapting the workspace to the needs of its staff. In addition, Powernet will implement a hybrid work experience, managing remote and on-site teams. All this to achieve maximum employee satisfaction and well-being, improve productivity and, above all, retain talent.
LOOM Torre Chamartín is a space of innovative design, with natural light playing a major role. A unique space with spacious offices, meeting rooms, rest areas and a spectacular terrace with privileged views of the Madrid skyline.
With this commitment to flexibility, Powernet will benefit from the entire catalog of new Ultra Flex products that LOOM has developed in recent months to help human resources departments adapt to new situations.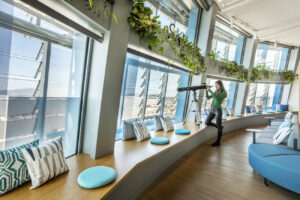 The office is more than just a place to work
Over the past year, the way people work has changed dramatically. Some employees have returned to the office, others have hybrid work models, and still others seem to handle telecommuting perfectly.
What seems to be a truism for everyone is that hybrid work is here to stay because employee expectations have changed and companies have to bet on spaces where collaboration, learning and well-being flow.
In fact, according to a report by Microsoft, "When you lose connections, you stop innovating. It's harder for new ideas to come in. What is clear is that the office is much more than a space to work, it is a place to interact, innovate, motivate and grow.
At LOOM we want to make the task easier for the human resources department by designing spaces and experiences that promote talent retention. At LOOM we go beyond the mere fact of providing spaces, we want to offer experiences that promote the welfare of employees, designing customized services that meet all the needs of entrepreneurs, startups, or large corporations.