Versatility, dynamism, flexibility and movement are words that define Madrid. Proof of this are the large number of flexible spaces that exist in the capital but… Which are the best coworking spaces in Madrid?
While coworking spaces used to be oriented to freelancers and startups, today they cater to all types of companies from corporations to scaleups, not to mention digital nomads.
Work in the emblematic Barrio de Salamanca in a flexible coworking space ideal for companies looking to combine vanguard and elegance. You will be surprised by its spaciousness and light, thanks to its large skylight, and the colorful vegetation that fills the place. In addition, it has many open and versatile spaces, which makes it the ideal environment to hold events and meetings, from a fashion show to a book presentation or a General Shareholders' Meeting.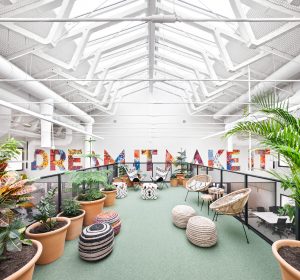 Can you imagine working in a space with views of the Madrid skyline? This is LOOM Torre Chamartín, a flexible space located in a fully domotized building with an innovative design and equipped with the latest technology. It is divided into 3 floors and has an impressive terrace perfect for holding events or informal meetings.
A modern space, located in a strategic area, between the M-30 and M-11, with quick connection to the Paseo de la Castellana, Chamartin train station and the airport.
LOOM Torre Chamartín has offices, private offices, meeting rooms, coworking areas and spaces for events, all in a unique location from which you will work in large work areas, surrounded by natural light and in a quiet atmosphere.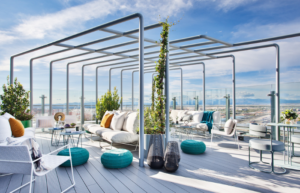 LOOM Tapices is calm, nature and peace. It is an office surrounded by greenery in the center of Madrid. The perfect mix between innovation and history, as it is located in the Real Fábrica de Tapices, a privileged location from which you will feel in an oasis of tranquility in the heart of Madrid.
This space is located just 5 minutes from Atocha station, from where you can connect with the main neighborhoods of Madrid and other cities in Spain. In addition, it is very close to museums such as the Reina Sofia and the Thyssen, which you can easily enjoy at the end of your working day.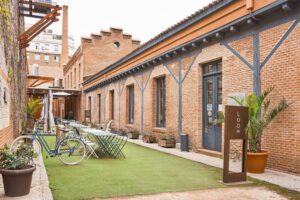 LOOM Eucalipto is a cozy space surrounded by nature. It is located in the neighborhood of Avenida de la Paz, very close to Arturo Soria and has offices, private offices, fixed and flexible positions, meeting rooms and spaces for events. It also has a large restaurant that focuses on healthy eating and a terrace where you can take a break surrounded by greenery.
Whether you are a digital nomad, a large corporation or a startup in full development, in LOOM we adapt to your needs by offering you positions for hours, days or months. Discover the spaces we have in Madrid and Barcelona and offer flexibility, conciliation and well-being to your employees.