Madrid is the headquarters of many companies and the center of the country's economic operations, that is why in this city, every day, very important business meetings take place for the national business development. Companies look for optimal locations for their meetings in the best spaces, so that these are productive and successful, but what are the best meeting rooms for rent in the city of Madrid?
To answer this question, from LOOM we wanted to present below the best meeting rooms we have so that the result and experience in our spaces is always the best :). Here you have our star meeting rooms, write down!

This impressive meeting room is located in LOOM Torre de Chamartín, specifically on the 16th floor. From this room you will have an impressive panoramic view of the city of Madrid, which makes it one of the favorite meeting rooms of our users. And, although in this space we can find more rooms, Terral is always the star. In addition, this room has a capacity of up to 10 people, which gives it great versatility for almost any type of meeting.
In Terral you can hold meetings in a unique and inspiring place, have the latest technology in connectivity and hire catering or additional services if needed.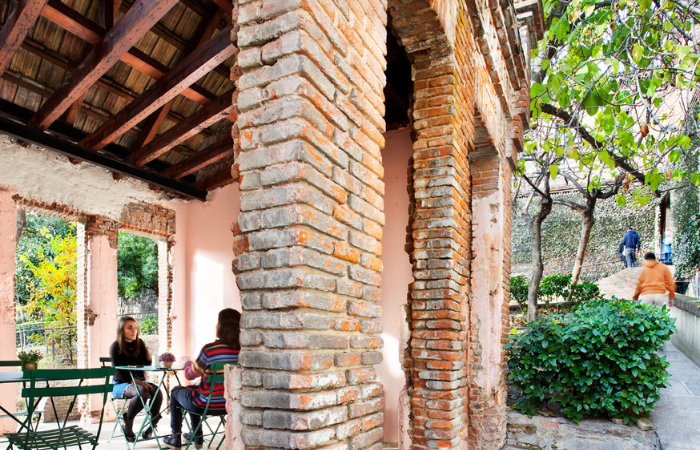 The Templete meeting room is located in our LOOM Tapices space. In the Templete meeting room you can hold your meeting in an idyllic landscape surrounded by nature. All this makes this meeting room in Madrid a unique place, outdoors and housed in a location as unique as the Royal Tapestry Factory.
What better place to develop your meetings in those days of good weather in Madrid? Templete is a meeting room that always enchants all those who use it and end up repeating their experience.
Inside this room you can feel the perfect combination between innovation and tradition. In addition, you can take a walk through this iconic place of Madrid and you will be 5 minutes away from the famous Atocha station, facilitating the movement of all attendees to the meeting.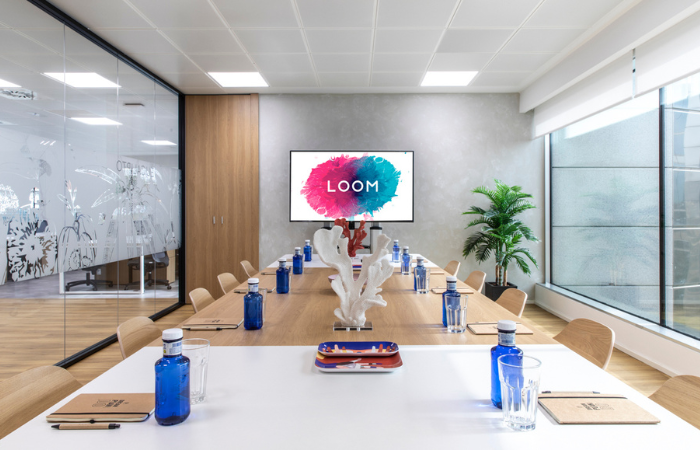 Eucalipto meeting room is located in the north area of Madrid, more specifically in Avenida de la Paz, inside LOOM Eucalipto.
This modern and innovative space will not leave you indifferent. It has the latest technology and features to carry out an efficient and productive meeting.
With a capacity of up to 10 people, Eucalipto is a perfect room for team meetings and business breakfasts.
In addition, this room is located just 10 minutes from the financial center and places of interest such as the Santiago Bernabeu, Chamartin station or the Paseo de la Castellana.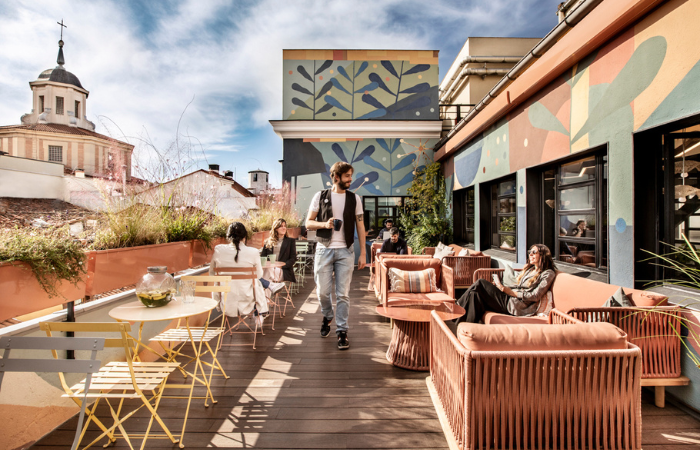 La Leyenda meeting room is located in the center of Madrid, specifically in the Barrio de las Letras, inside LOOM Huertas.
From this room you can see the famous rooftops of the Barrio de las Letras in Madrid, unique views that will make your meeting much more enjoyable.
This room is designed for business breakfasts and small workshops and is a very bright meeting room with innovative furniture. Whatever the purpose of your meeting in this space you will feel comfortable and at home.
In addition, the space has 400 m2 of open and flexible areas where you can organize the best events in the heart of Madrid and a spectacular terrace for relaxing moments.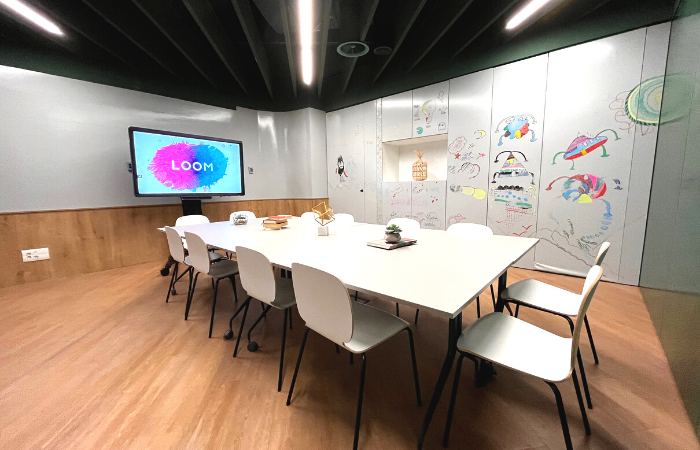 Pasión meeting room is located in the LOOM Salamanca coworking space, in the popular Barrio de Salamanca in Madrid.
This meeting room is oriented to co-creation and design thinking sessions, allowing you to carry out very creative meetings and different brainstorming to develop new projects as a team.
Choose the Pasión room and you will be able to enjoy an impressive meeting room of more than 30 square meters equipped with the latest technology, ideal for teams of up to 11 people.
Now that you know the best meeting rooms in Madrid, what are you waiting for to start developing successful work meetings in them?