The pandemic has driven a culture of greater flexibility, fostering a mindset shift to live more in the present, create fewer long-term commitments and services that adapt quickly to needs without creating strings attached.
At LOOM we see how people are looking for personalized care services and hybrid formats that drive flexibility at work.
If work is flexible… offices should also be flexible.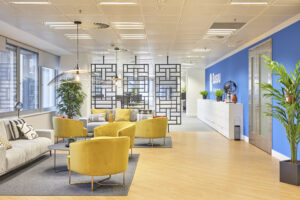 What are flexible offices or flexible workspaces?
Flexible offices are workspaces that offer companies greater capacity to adapt to their needs and rhythms, since each company has different demands and situations. They are those workspaces that are characterized, as the word indicates, by greater flexibility in relation to aspects such as location, size, hiring periods and additional services.
1. FREEDOM TO CHOOSE WHO USES IT
While in some coworking spaces the rental of workstations is nominative, at LOOM we take this freedom to another level with a product completely adapted to the hourly needs of any company: LOOM Passport, a voucher of hours in fixed workstations with which you can access all our coworking spaces, reserve a series of fixed workstations and decide who uses them.
2. CHANGE LOCATION WHENEVER YOU WANT: MULTI-SITE SERVICES
Sometimes it can become repetitive to always work in the same place, or there are days when we are more interested in going to a particular coworking for family issues, meetings, errands … so with services like those we offer in flexible offices, LOOM GO and LOOM Passport, you can access all our spaces in Madrid and Barcelona with the ability to change space depending on your needs. Perfect to break the routine and promote work-life balance!
3. ADAPTING TO THE NEEDS OF YOUR COMPANY
In the uncertain times we live in, it is difficult to make long-term forecasts for the future. As LOOM knows that people and businesses change, flexible workspaces adapt to any kind of demand, being even more flexible than ever.
This adaptability goes as far as being able to use your office and pay only for the time actually consumed. LOOM Unlimited is the new pay-per-use product for large companies. Your company will be able to use all our workspaces and meeting rooms on an unlimited basis and pay at the end of the month only for the time consumed.
4. CONNECT WITH OTHER PEOPLE WITH COWORKING SPACES
One of the biggest advantages of coworking is being able to connect with other people and meet new projects in their common areas, networking activities, events…. so new ideas and synergies fly!
5. ECONOMICAL SERVICE, YOU ONLY PAY FOR WHAT YOU USE
Flexible offices allow you to optimize costs, since you have access to services such as reception, technology, events… without any added cost and, thanks to its flexibility, you are paying only for what you use at any given time.
6. ENHANCE YOUR COMPANY'S IMAGE
You will agree with us that appearances matter, right? Thus, flexible offices have a sophisticated design and innovative furniture that will not leave any of your clients or partners indifferent.
7. WELL-BEING OF PROFESSIONALS
When the team feels cared for, productivity increases. That is why, in flexible work spaces such as our LOOM coworkings, the personal and professional growth of people is promoted through hosts that facilitate the experience, disconnection spaces… places that separate the home from the work space to promote well-being.
8. SAFE WORKING ENVIRONMENTS
The flexible offices have all the safety measures, redistributing its professionals in large spaces to ensure social distancing, reinforcing the daily cleaning service or the ventilation of the facilities.
9. ALL SERVICES INCLUDED
Access to printers, cleaning and maintenance service, call answering, unlimited coffee, 24/7 security, parcel delivery… forget about the paperwork!
10. SECURE INTERNET CONNECTION
Earlier we mentioned that the pandemic has driven greater work flexibility. Do you know what it has also promoted? Cyber-attacks, increasing by 40% according to IBM X-Force IRIS data.
That is why it is essential to have an advanced and secure Internet connection, supported by firewalls through antivirus, web filtering, application control and IPS system to avoid these incidents.
Did you like this different way of working? Find out more about our flexible workspaces and all the services we have available for you.